The Preacher of the Papal Household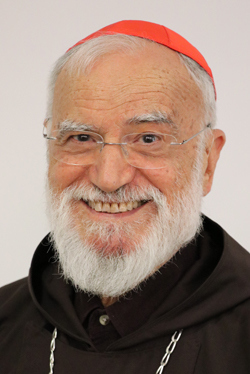 Since 1980, Br. Raniero Cantalamessa, of the Province of the Marches, has served as Preacher of the Papal Household. In this capacity, he conducts a meditation every Friday in Advent and Lent in the presence of the pope, cardinals, bishops, prelates and the general superiors of religious orders. The title and the office of the Apostolic Preacher go back to Paul IV (1555-1559). Until that time, the General Procurators of the four mendicant Orders – Preachers (Dominicans), Minors (Franciscans), and the Eremitans of St. Augustine and Carmelites – preached by turns on the Sundays of Advent and Lent. From Paul IV onwards, the Apostolic Preachers became steady, chosen from different religious orders. Finally, the Supreme Pontiff Benedict XIV, with the brief Inclytum Fratrum Minorum of 1743, reserved this charge exclusively to the Order of Friars Minor Capuchin.
The sermons are currently held in the Cappella Redemptoris Mater. The Preacher of the Papal Household lives in the General Curia of the Capuchin Friars.
For more information on the ministry of Br. Raniero, visit the site: www.cantalamessa.org
Last modified on Wednesday, 26 May 2021 22:48